Communications + Arts
Captivate the Audience
 
​
Look around you. Someone, somewhere, got paid to draw your attention toward something that they want you to consume.
Recent reports suggest that occupations that create experiences, tell stories, or provide entertainment comprise one of the highest areas of job growth. With an imaginative mind, a resourceful toolkit, and an interest in engaging an audience, the modern workforce presents countless opportunities to make an impact through creative, original, expressive work.
Use the information on this page to jumpstart careers related to marketing, advertising, branding, public relations, professional writing, journalism, design, digital media, film production, performing arts, entertainment, sports, museums, tourism, hospitality, event planning, and other creative roles.
Recent Postings
Click to view opportunities related to Communications + Arts in Handshake. Customize your filters and learn how to search for UCSB career success!

Get Hired: Communications + Arts
For complete information on job search strategies, resumes, cover letters, LinkedIn, interviews, and more, review our starter tips to Get Hired in all careers as well as the specialized tips on this page.
Job Search Strategies
Timelines
Depending on the field or industry within Communications + Arts that you are targeting, there are different timelines to consider. Commonly, large employers that have a recruiting pipeline for entry-level roles advertise opportunities in winter quarter, while small employers advertise opportunities in spring quarter or on short notice year-round.
Once you have identified a field or industry, look for specific timelines in advance. For example, if you are seeking a position within the entertainment or museum industry, it is best to begin reviewing application deadlines in late summer and early fall for positions that start in spring. With this said, every organization has unique needs, so be prepared for a variety of job search timelines.

Making Connections
Many job markets within Communications + Arts experience high levels of competition, which is often driven by the general popularity of entertainment-based services in modern culture. Because of this, it is particularly important to incorporate an intentional effort to Make Targeted Connections in your job search strategies. Often called "networking," this approach is essential to break into many areas of Communications + Arts -- consider incorporating it into your long-term job search strategies.

Specialized Resources
In many fields, it is worth identifying specialized job search resources that can help you get an edge. Most often, there are several job boards and professional associations within a specific area of Communications + Arts, and it is useful to seek out these resources.
For instance, in entertainment careers, you can use EntertainmentCareers.net and Stage 32 to build your career, whereas TeamworkOnline, Fangraphs, MLB Diversity & Inclusion Program, and individual sports club websites can provide job opportunities in the sports industry. For visual arts careers, take advantage of Behance to find jobs and showcase your work.
With technical theater careers, OffstageJobs advertises a number of relevant positions, and The Association for Performing Arts & Entertainment Professionals as well as the Theatre Communications Group offer various job search resources. With good search skills using keywords such as "technical theater", you can uncover many more opportunities on larger platforms like Indeed, LinkedIn, and Facebook Groups.
These are example strategies that can be applied to many other fields and industries, with good investigation and research.
Resumes
When writing a resume for positions related to Communications + Arts, a common consideration is the format that best advertises your qualifications. While this decision is rarely made with complete certainty, it is generally best to make the decision based on the level of "creativity" required for the position you are targeting. In other words, your resume should reflect the amount of artistic creativity that will be used in the work you are applying to do.

Traditional Format
Positions related to Communications + Arts that are more business-oriented are best served by a resume in the traditional format. For example, if you are applying to work in film production, you may choose to use a traditional format and expand on previous projects. Examples of other fields in which the traditional format is beneficial includes business administration and market research, as well as most positions that have no relationship to Communications + Arts. For more information on traditional resumes, visit our Resumes page.

Creative Format
In contrast to the traditional format, the creative format can serve your resume well if you are pursuing a position that entails a high level of creativity and expression. For these roles, employers often seek to understand your unique artistic abilities by viewing your resume as a representation of your portfolio.
As with any resume, a creative resume should include clear organization and consistent formatting throughout the document. This means that headers should match in each section, fonts should be easy to read, and material should be easy to skim quickly. Focus on the content of the resume, particularly your skills and results. While you should offer a creative way to present these qualifications, the quality of this information is most important.
When describing previous projects and accomplishments, it can be strategic to maximize your online integration within the resume. Within the header or the experience section(s) of your resume, incorporate links to samples of your work.
Creative resumes can be used in fields such as: graphic design, web design, illustration, fashion, marketing, advertising, social media, public relations, and more. To determine how much creativity to incorporate into your resume, review the job description for its level of creative work. The more creative the role, the more creative your resume could be.
Here are some additional considerations when compiling your creative resume:
Amount of text versus empty space: The visual aspect of your resume must be appealing to the employer. Consider whether this means incorporating more empty space so the content stands out, or less empty space so that the document appears complete.
Display of color when printed in greyscale: Color is a great way to incorporate individuality into your resume, however, employers occasionally print your resume in greyscale. If you choose to utilize color, test it out with a greyscale printer before submitting it.
Branded logo and font: It can be beneficial to have a recognizable logo and font style to brand your materials. Incorporating this into your resume will make it stand out among other applicants. Be sure that all stylistic choices remain consistent throughout your work.

Here are two creative resume samples to consider with varying levels of creativity:
Once you have completed a draft of your creative resume, tailor it to a specific employer and get it critiqued. No matter what styles you choose, be sure to customize your resume to the role for which you are applying.
Cover Letters
In most instances, cover letters for careers in Communications + Arts follow similar principles of cover letters in any other career path. With this said, many positions in Communications + Arts require a higher skill level of written communication and creativity, thus, you will gain a competitive advantage if your cover letter demonstrates strong storytelling abilities.
High-impact cover letters can be particularly important in fields that pertain to writing or marketing. Check out NPR's tips for 5 Things That Are Wrong With Your Cover Letter to learn valuable strategies that break the mold of traditional cover letters. No matter which strategy you take, ensure that your cover letter grabs your audience and addresses their most pressing needs.
Portfolios
For positions related to Communications + Arts, it is often useful to provide a portfolio that supplements your resume and cover letter. This allows an employer to see specific examples of your work, leaving them with an in-depth and accurate impression of your achievements and potential.
Your portfolio should help an employer visualize how you could succeed in their workplace, so it is always important to curate your portfolio to meet the employer's unique needs. 
To guide your portfolio process, consider the steps to Gather, Sort, Choose, and Act: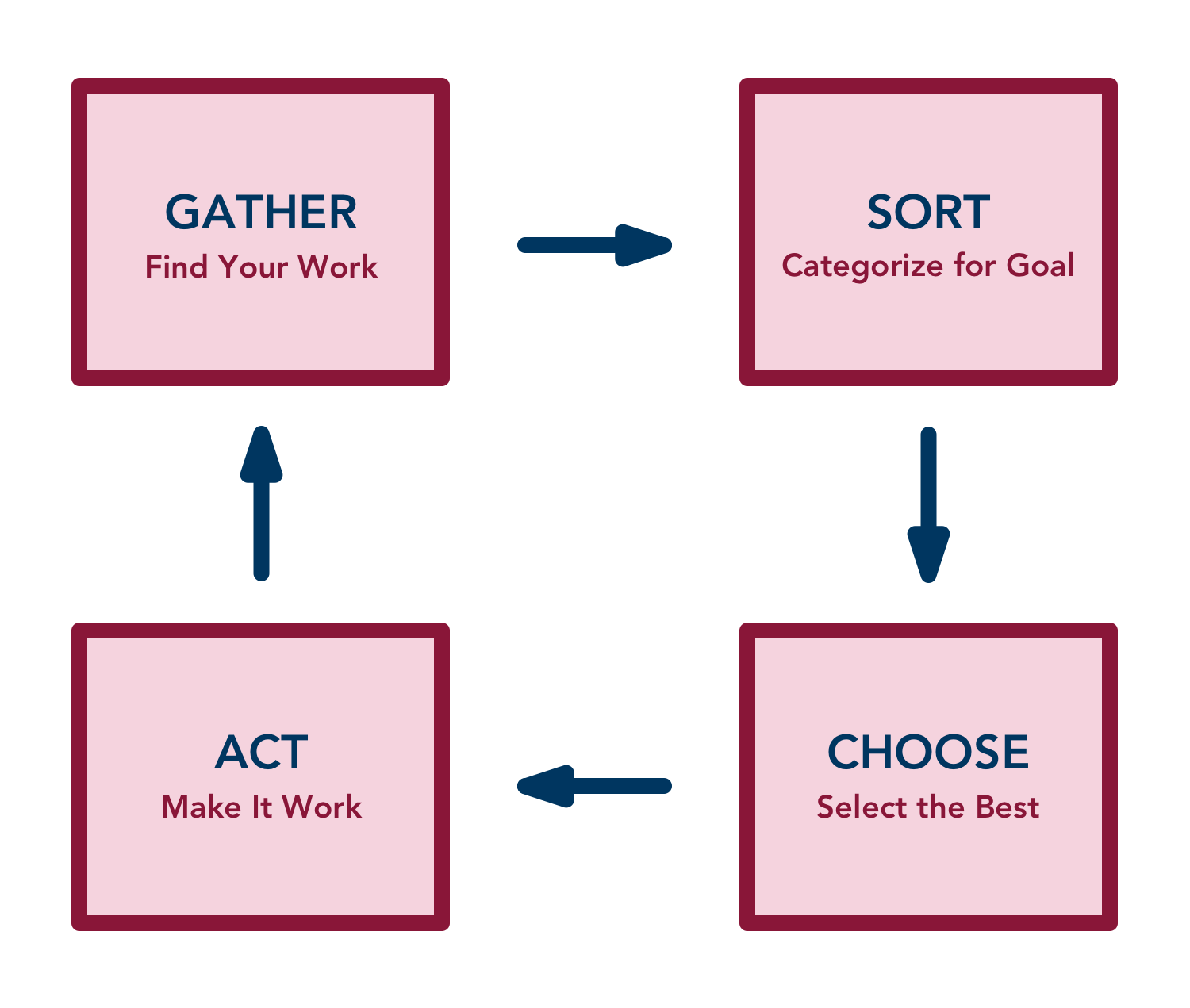 The content of portfolios range widely across all individuals. Here are a few examples of items that you could include:
Materials you have designed for a previous course, job, or internship
Artwork from personal projects
Articles, blogs, or written publications you have produced
Social media pages or campaigns you have managed
Excerpts from projects you have led
 
As you curate the items that relate most to the position for which you are applying, another key decision in this process is the format of your portfolio. Some portfolios are presented in the format of a PDF, others are presented in the format of a digital folder (e.g., Google Drive, Box, Zip Archive), others are presented in a physical format, and others are presented in website format (read below for more details).
No matter which approach you choose, be intentional and let the nature of your work as well as your audience's needs guide your decisions.
Professional Websites
As online engagement continues to develop, having a professional website can help you maximize your personal brand and work toward future entrepreneurial endeavors. Many students and professionals in Communications + Arts benefit from building their own website to publish their work, express relevant ideas, and grow their audience. More specifically, in the job search process, a professional website can demonstrate your qualifications at a deeper level than a resume or cover letter.
If you are interested in creating a professional website, begin with a fundamental consideration: what is the website's goal? It is critical that you identify the purpose your website should serve, before you decide what to include in it or how to design it. Given this consideration, most people who pursue careers in Communications + Arts incorporate their portfolio into their website, producing one ultimate platform for their professional brand.
Once you have identified your website's goal, it is time to explore options for the hosting and domain of your new site. There are a number of website production platforms that range widely in features, templates, support, and cost, so be sure to research these options carefully and weigh the pros and cons before selecting one to move forward with.
Though most employers do not expect current students or recent graduates to have a robust professional website, take every step you can to stand out. For example, if you have the ability to purchase your own domain (i.e., URL), your website will give a strong professional image and better SEO to impact your audience.
To move your process forward, begin thinking about these basic website components:
Home Page: This is the main page of your website, thus you should include what you want your audience to see most frequently. First impressions are everything.
Navigation: This is the set of menu bar(s) that visitors use to navigate your website. Your navigation options should organize your website into the most important categories for your visitors' interests.
Branding: Unlike social media pages, online platforms leave most of the creative decisions within your hands; use this to your advantage. Create a personalized and authentic expression of yourself through your website, and consistently incorporate it throughout all of your platforms. This can include naming conventions, fonts, profile pictures, and avatars, as well as other consistent design elements.
Content and Platforms: Provide visitors with easy access to the best ways that they can engage with you and your work, including your portfolio, professional social media pages, and additional websites (if applicable). You can also offer contact information for those who are interested in reaching out to you.
Marketing Channels: Once your website is established, identify high-impact marketing channels and strategies to spread the word. At the minimum, include a link in your resume header, email signature, and social media accounts. Continue to monitor and optimize your website's reach through Search Engine Optimization (SEO) and organic marketing strategies.

There are many more online resources to assist with website production, so we encourage you to use these initial tips as inspiration to research additional best practices for your professional website. You can also learn ways to Develop Your Presence through our general considerations for managing your digital footprint related to LinkedIn.
Social Media
The easiest way to enhance your online presence is by creating professional social media accounts that are separate from your personal ones. Privatize your personal accounts and make the professional ones more noticeable so that when future employers research you, they are likely to come across your relevant achievements rather than your personal affairs.
One of the best ways to do this can be to create a LinkedIn account and engage with it regularly. Check out our LinkedIn page for full details!
Test your online presence by Googling yourself from a public computer. If your personal website and professional social media pages are not found within the first five links, try updating your URLs to include your name or other related keywords that people may search for. This helps optimize search results, also known as Search Engine Optimization (SEO).
Interviews
Preparation for an interview is always essential. When you have been selected, conduct extra research regarding the company and its principles, the responsibilities your position entails, and the information you provided in your application materials. You should be able to expand on every bullet in your resume and every experience in your cover letter.
If a portfolio or professional website helps you to demonstrate your past achievements and potential to the employer, compile a presentable version of your materials to offer during your interview. If your work is virtual, you could make the link(s) readily accessible via tablet or mobile device; if your work is physical, you could bring it in a folder or organized container.
For more information on interviews and preparation, visit our Interviews and Offers page.
  Want Emails on This Career Path?
Subscribe to Your Future in 3 Easy Steps
Do you want to receive success tips, jobs and internships, and events for these interests? Go to your Career Interests in Handshake and check the box for Career Path emails on Communications + Arts!
Login to Handshake to subscribe now, or see how to Update Your Career Interests >>